The Minnesota Youth Handball program would like to thank and recognize Timothy Leahy, who recently passed away, for donating money to the youth program. Tim's wife Paula decided to recognize the great gift of handball in Tim's life by donating money to help young people who love (or are perhaps just learning) handball. The youth program will use the funds that the Leahys have donated to send young people to the World handball competition.
Tim started playing handball when he was in college at Saint John's University in the 1960s. He enjoyed playing handball regularly, in tournaments and recreationally, for nearly five decades. Tim made many life-long friends while playing handball, and he always encouraged young people to learn the sport because they can enjoy it for their entire lives. Tim certainly did!
USHA NATIONAL FOUR-WALL JUNIORS
Juniors get the final words: Thank you!
Donations open door to a great experience
any juniors are able to travel to USHA national events only because of the generous donations to the
Ardito Travel Fund. Each recipient of travel money writes a letter of appreciation to his or her sponsor. Here are some examples of the juniors' thoughts on the donors' generosity:
I'm 16 years old and have been playing handball for 11 years. I'm so thankful that you were able to help support me in coming out to Portland, Ore., for my 10th junior nationals. I look forward to this tournament all year.
I have a brother, mom and dad who all play handball, as it has turned into a family affair. Sometimes all four of us will play in tournaments together. I started playing handball at the Lattof YMCA with Don Quinlan's group and I've loved it ever since. This past year I have started to play in the open brackets at tournaments around the Midwest.
Once again, I would like to thank you for your help and support as it means more to me than you could think.
Ray Ure, Des Plaines, Ill.
I am 9 years old and the youngest player in the juniors tournament. I have been playing handball for one year.
My granddad is my coach. We practice three times a week. Bob Hickman teaches a class on Saturdays.
I want to have fun and win more games. My goal is to be the best handball player possible. My life goal is to get good grades and be the best person I can be.
Joshua Smith, Colorado Springs
I'm from Ireland, and this is my first time being at the junior nationals. I'm playing in the 19-and-under division in singles and doubles. I started playing handball at 14 and haven't looked back since.
Being here has been a great experience, especially seeing all the players America and Canada have to offer. I've also made new friends and broadened my handball horizons.
I cannot thank you enough for helping fund and run this tournament as it really is the best junior tournament I've been to. It has improved my game tenfold. The chance to participate somewhere like the MAC really is a dream come true.
Thank you again and hopefully someday
I'll do the same.
Brooklyn Hickey, Mallow, Ireland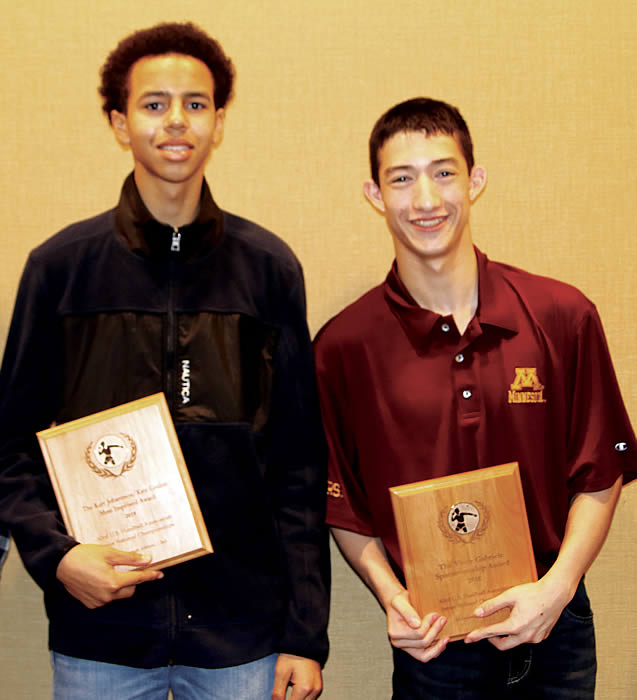 Isaac Alberg (left) won the award for most improved, named for Lattof YMCA players Kate Conlon and Kurt Johannson, and Joseph Lallier earned the sportsmanship award, named after Vince Gabriele Jr. Alberg, in only his second year, became one of the most competitive juniors, and Lallier pitched in whenever help was needed.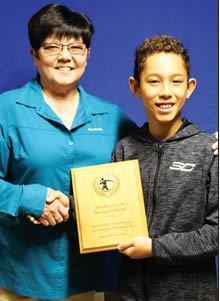 A.J. Wilkinson, who won a title in his first USHA event, receives the best newcomer honor from LeaAnn Martin. The award is named for Tom Lynch, who has spearheaded fundraising for the annual juniors travel awards.
A.J. Wilkinson, who won a title in his first USHA event, receives the best newcomer honor from LeaAnn Martin. The award is named for Tom Lynch, who has spearheaded fundraising for the annual juniors travel awards.
I am 13 and have been playing handball for about two years. This is my second nationals. I play handball, tennis, soccer, volleyball and track and field. I am a triplet and have two sisters who also play handball.
I play handball at the Lattof YMCA and my coach is Don Quinlan. I play handball one day a week for two hours a day, sometimes three.
Thank you so much for your generosity. I really appreciate it.
Zoe Klicker, Arlington Heights, Ill.
I want to thank you for helping us come to Portland, Ore. I had a great time here and wish to come again.
I've been playing handball for five years now, and ever since I returned my first shot in the short court I fell in love with it. I am
13 now, and I participated in the 13-and- under small-ball bracket. I won two games and sadly lost two.
I'm glad I lost because I learn from my losses. I'm ready for the 2019 nationals and thankful for you.
Antonio Rivera, Tucson
I am 12 years old and have been playing handball for seven years. I like handball because it keeps you in shape and it's fun to play.
I appreciate you for supporting me because it has helped me be where I am now. And without you I wouldn't be able to go on big trips like Portland, Ore., and Chicago. Thank you for your donations and supporting the Fred Lewis Foundation.
Ayden Brule, Tucson
HANDBALL 23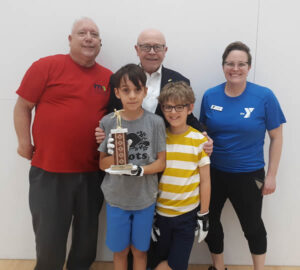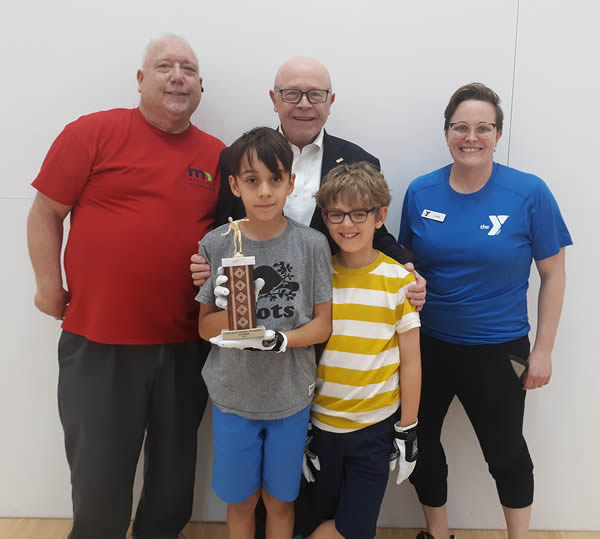 Steve Kufus who has given time to help teach, moral support and financial support to the Minnesota Youth Handball Community was awarded the tournament name this year. Steve was recognized as a person that has given a lot to promote handball in Minnesota.
The Midway YMCA has a program called Court Sports where handball, racquetball and wolleyball is taught. This years Minnesota State Handball 2019 tournament was held at the University of Minnesota. Ayan Hassan, an 11-year-old from Friends School won the 2 bounce Youth Handball Tournament.
This year the Youth Handball Program group taught 40 to 50 young adults (from eight different countries). Mitchell Lallier, along with the older players, worked with the younger players (5-12) while Phil Gebben Green, along with the University of Minnesota students, worked with the older players. to learn the value of playing handball. They teach not only handball but leadership, responsibility, honesty, friendship, and sportsmanship.
Story taken from The Monitor